"After Work" with "Ärtsoppa och Punsch"
Welcome to our popular "Swedish pea soup and punch"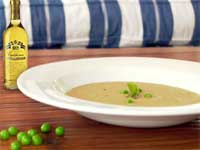 Based on a very old tradition, pea soup is a very common meal served in Sweden. Actually, most lunch restaurants in Sweden offer this dish once a week, on Thursdays, to their hungry customers. Many Swedes also like to gather after work to small talk over a plate of pea soup accompanied by punch.
Swedcham Brasil, together with the Scandinavian Church, are now glad to once again proudly invite you to participate in this informal event, which has become very popular!
Don't miss this opportunity to again meet with the flying priest Lasse Svedberg.
Come and make this night enjoyable and fun!
When
Thursday, October 30 at 19:30
Where
Igreja Escandinava - Rua Job Lane, 1030 - Santo Amaro
Phone: (11) 5687-8829
What
The following is included in the price:
Main dish: Ärtsoppa (Pea soup)
Dessert: Pancake cake
Drinks: A glass of punch and 2 beers
(any drinks after this sold separately).
Price
R$ 35,00 (To be paid directly to the Church upon arrival)