Eventos
The Swedish Experience in Sustainable Wooden Construction – Woodlife Sweden
The Swedish Brazilian Chamber of Commerce and the Swedish Embassy in Brazil have the pleasure to invite members and friends to the presentation:
The Swedish Experience in Sustainable Wooden Construction – Woodlife Sweden
by Robert Schmitz – White Arkitekter
Wooden high-rise buildings have become reality. So have design projects taking on a life-cycle perspective working with a no-waste principle, and public spaces or even towns that take on the challenges of sustainable development for all citizens.
Mr. Robert Schmitz will talk about projects presented in the Woodlife Sweden exhibition wich are all facing the looming paradigm shift in the construction industry, where wood as the only renewable building material plays a key role.
Forty projects in various scales and from all over Sweden, have been selected to visualise how architecture, design and urbanism can help reduce the climate impact of buildings and products, and impact future development in line with the 17 Sustainable Development Goals (SDGs).
The exhibition Woodlife Sweden was produced by the Swedish Institute and Architects Sweden in collaboration with Swedish Wood, the Swedish Wood Award and the Swedish Forest Industries Federation in 2020.
Welcome to Woodlife Sweden!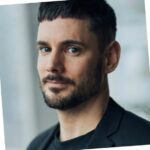 Robert Schmitz (graduated from Chalmers University of Technology 2005) is an award-winning architect and one of White Architect's leading partners. He has steered several of the company's flagship projects from competition to completion with a special focus on designing public, civic and cultural buildings that encourage a sense of belonging. He is an award winning, modern-day pioneer of timber design and construction and the lead architect of the international awarded Sara Cultural Centre, the world's largest, carbon negative timber building. Robert is director of the competitions team, while providing strategic input into the management of the Stockholm studio. Furthermore, he takes part in international juries and is a highly appreciated keynote speaker worldwide.
https://www.linkedin.com/in/robert-schmitz-611a205/
When:
Friday, March 3 at 9am
Where:
Rua Oscar Freire, 379 – 12o.andar
Agenda:
08.30 – Welcome coffee
08.50 – Welcome – Jonas Lindström – Managing Director/Swedcham

08:55 – Introduction  – João Arthur Mohr – FIEP

09:00 Presentation – Robert Schmitz – White Arkitekter

10:00 Q & A
RSVP by March 2 – eventos@swedcham.com.br
Limited space!
In partnership with: