Eventos
Future Thinking – How To Use Disruptors and Design Thinking to Create Value
Future Thinking – How To Use Disruptors and Design Thinking to create value
Change keeps happening at an increasing pace. Who is able to keep up and who will struggle to stay relevant? Fueled by maturing technologies and other disruptors, design thinking has become one of the most powerful approaches to innovation.
Paal Holter, CXO and co-founder of the design and innovation consultancy EGGS Design, shares his perspectives on how companies can stay relevant and use disruption and design thinking as tools for innovation. EGGS Design grew from a startup to the largest design-driven innovation consultancy in Norway in just 5 years. EGGS now has offices in five locations, including Sao Paulo, with great aspirations for both Scandinavian and Brazilian business innovators.
About The Speaker: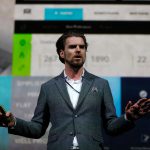 Paal is one of Norway's most experienced designers for digital systems. He is a future thinker and design thinker, and you can often find him poking both clients and colleagues with new perspectives on design-driven innovation.
During his 15 years of professional experience, Paal has specialized in design for digital systems, complexity, future-orientation and professional users. In addition to maritime and high-tech industries, Paal also has experience with business systems and public services. Several of his projects have won the Award for Design Excellence from the Norwegian Design Council.
Paal is now the Chief Experience Officer of EGGS Design, responsible for aligning and communicating EGGS' service offerings to the market. He is frequently used as a speaker at seminars and conferences.
When
Thursday, November 8, at 08:30
Where
Swedcham
Rua Oscar Freire, 379, 12º andar, Cj 121
Cerqueira César
Parking
We recommend Hotel Regent Park Rua Oscar Freire, 533.
Agenda
08:30 – Welcome coffee
09:00 – Welcome: Jonas Lindström – Swedcham
09:05 – Presentation: Paal Holter- EGGS Design
10:15 Q & A
10:30 Cofffe and networking
Language
[extra_wrap]
English
Price
Members: Free of Charge
Non Members: R$50,00
RSVP by November 5
[extra_wrap]
Reservas