Save Time and Money
Swedcham offers a Video Conference Room that accommodates up to 09 participants and allows meetings with audio and visual communication in real time. In a comfortable and safe environment, you avoid the costs and difficulties from long and tiring business travelling.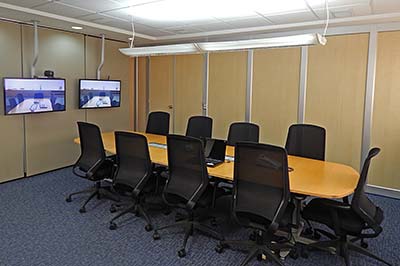 The room can simply be connected with up to four other remote locations over an IP (Internet Protocol) network, making communication with your customers, employees and partners more efficiently, no matter where they are.
Visit the Video Conference system of Swedcham and discover a world of new possibilities in enterprise solutions. You will be amazed with the technology and ease!
Facilities
22 m²;
07 chairs;
Video Conference System Tandberg 990 MXP;
Wi-Fi for Internet access;
Built-in sound system;
Table with sockets and access cables;
DVD / CD Player;
 Notebook;
2 LED Screens 40".
For more information contact Swedcham: eventos@swedcham.com.br or (11) 3066-2554.