Overview
It was with great pleasure that we launched the Innovation & Sustainability Committee in November 2011. This initiative was driven primarily by the desire of many of our members to create an environment for debate on increasingly relevant issues in the business environment.
Innovation & Sustainability issues are interdependent and must be addressed simultaneously by the Committee, considering that innovation is defined as any initiative in the organization that allows efficiencies in the production process of consumer goods or even services, but must be applied with as much economy and natural resources preservation as possible, in other words, sustainably.
In the first six months of the Committee, we had the opportunity of conducting the launch at Swedcham's headquarters with the effective participation of members of prestigious companies in Infrastructure, Energy Consultants, Environment and Innovation, and the Swedish Trade Council, among others.
Our first workshop was held at the invitation of Bloomberg, in São Paulo, where new members attended, and was dedicated to the discussion of Renewable Energy, a central theme of the Committee for the first half of 2012.
We are sure that many corporate members are world references in many of the issues we want addressed, but to achieve the quality and excellence we desire, the presence of our members is very important. We count on you!
Social and Environmental Panorama

To contact the Committee you can send a message via our Contact Form or e-mail to sustainability@swedcham.com.br.
Coordinator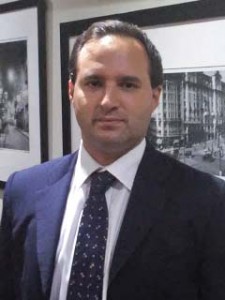 Felipe de Camargo Neves Christiansen - Lawyer, graduated from Mackenzie University/SP (OAB/SP under n. 185,764) since 2001. Postgraduate in Tax Law form Mackenzie University (2004). Postgraduate in real estate law from Escola Paulista de Direito – EPD (2014). Internal Environmental Auditor from Vanzolini Foundation (2006). Environmental Technical Manager - ISO 14.001, from Senac (2006). More than 15 years of experience in law firms, working on contracts, consulting and litigation areas. Currently attorney in Guimarães Ferreira de Mello Advogados (civil, environmental and real estate law). Coordinator of Innovation and Sustainability Committee - Swedcham since 2012.